About me
My name is Andrea Degiacomo. I am Digital Artist.
In 2018, I was facing a difficult time. I spent sleepless nights with an immense internal need to turn around what I was going through. As a passionate, demanding and self-taught, Scorpio, I put insomnia into work and dived into a new world of endless possibilities: the "Digital Art". So, little by little with nothing but good intention and Photoshop classes I discovered an incredible creation path that was unveiling before me.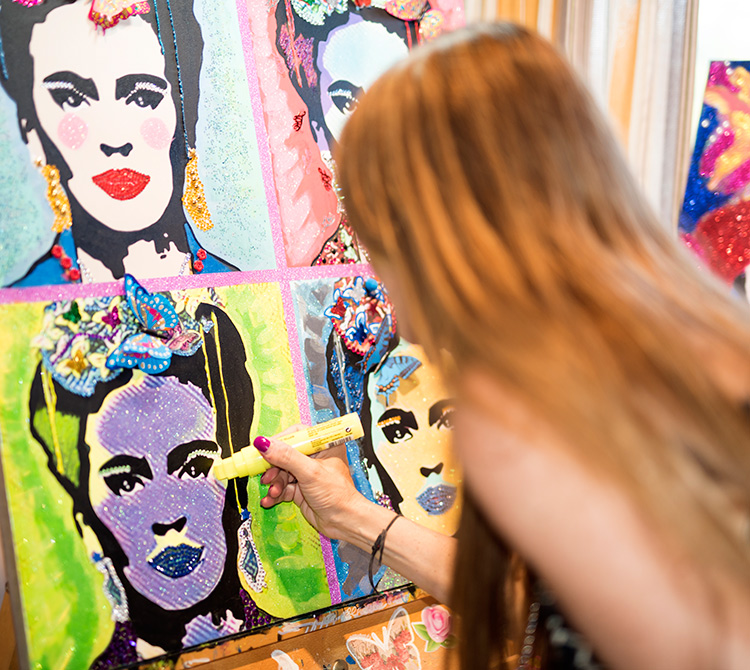 Gallery
Mis cuadros llevan dos etapas: la primera es la tecnológica y la segunda, la manual.
Plasmo mi idea en Photoshop y comienzo a jugar hasta llegar a destino. Inserto escenarios, visto a los personajes, imagino el mensaje. Imprimo la composición, elijo materiales piedras, glitter, flores, mariposas, botones, lentejuelas, galones, ojos móviles…
Poco a poco el cuadro comienza a tomar vida, y esos personajes encerrados en un cuadro, saltan a una nueva realidad rodeados de brillo y color. Irrumpen la escena con fuerza y desparpajo. Rompen moldes y se integran a una sociedad cambiante y vertiginosa.
Papers
Canvas